Stroopwafel? Stroopies? Waffle Cookies? No matter what you call them, they're delicious!
We just received these new Waffle Cookies from Stonewall Kitchen in Maple Brown Butter & Cocoa Sea Salt Caramel!
Our team was very excited to try them and they did not disappoint! Delicious and chewy and a perfect treat with coffee, tea or just about anything.  Only $1.50!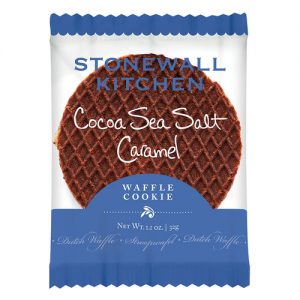 "Traditionally known as stroopwafels, these popular treats from the Netherlands date back to 19th-century Europe. For our modern take on this classic, thin cookies are sandwiched together with a gooey caramel sauce made with maple, molasses and a dash of sea salt for a sweet, satisfying snack. Enjoy one as the Dutch do by letting it soften over a hot cup of tea or cocoa for a warm treat after a long day."
We want to say "dank je" (thank you) to the Dutch for introducing us to the stroopwafel, a popular snack in the Netherlands that dates back to the 19th century and consists of two, thin waffle cookies sandwiched together with a sugary filling. For a tasty spin on the standard recipe, we added rich cocoa to the cookie batter and sea salt to the caramel for a sweet treat that you won't want to put down. Eat them as is or try one warmed over a hot beverage for an extra gooey filling."
– from Stonewall Kitchen